4. INVENTORY ITEMS AND SKILLS
THERE ARE MANY ITEMS YOU CAN PICK UP AROUND THE GAME. ALL ITEMS DO SOMETHING THOUGH THEY ARE NOT ALWAYS VERY HELPFUL. ITEMS APPEAR ON THE LEFT OF THE MENU AND CANNOT BE SELECTED LIKE WEAPONS, THEY AFFECT THE GAME AUTOMATICALLY.
SKILLS APPEAR AT THE BOTTOM OF THE MENU WHEN YOU GET THEM ABOVE LEVEL ZERO. DIFFERENT SKILLS USE DIFFERENT METHODS TO INCREASE. THERE ARE FIVE SKILLS AND IT'S UP TO YOU TO UNLOCK THEIR SECRETS. YOU DON'T NEED SKILLS TO COMPLETE THE GAME.
MONEY IS NEEDED TO BUY FROM PEOPLE AND ALSO LETS YOU INTO SOME AREAS LIKE AT THE BUSS STATION. SINCE MANY ENEMIES TAKE YOUR MONEY YOU SHOULD TRY TO FIND EFFICIENT WAYS TO MANAGE IT.
FAST-TALK LETS YOU TALK TO PEOPLE
Getting a higher fast-talk rating lets you talk to people you couldn't talk to before, especially girls. To raise this skill you must solve puzzles and make friends.

Whenever someone gives you a skill don't expect to get another level from them, try someone else.

DEFENSE
You can raise this characteristic by beating cops but it won't go up unless they also take some money from you. Defense can lower the amount they steal from you a little but it is more important when facing a later challenge.
THE WAREHOUSE
The warehouse south of the COHNEY ISLAND is full of pests and its caretaker will pay you for each you destroy. Simply go in, use the special weapon, and when you've piled up some good kills talk to the guy again. This is the only "job" you can get so stick with it and try to explore the whole warehouse.
DUMPSTER DIVING!
Trash piles look like multi color blobs. To search one simply stand on it and press C. There are 6 possible results: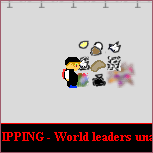 Nothing happens, you hear a sound, try again...
Reading material like "NEWS CLIPPING" - not bad, might be a clue.
Skill Up - great, now remember that pile, you can only get one "SKILL UP" per pile.
Money - usually not much...
Item - great an item! You can't get two at once.
Nothing happens, no sound - you need to wait longer before searching it again.